About
Dummy Thicc is a slang expression based on the term "Thicc", indicating that someone is exceptionally voluptuous. Online, the phrase is typically used as a synonym for "Extra Thicc".
Origin
The exact origin of "dummy thicc" is unknown. On January 22nd, 2018, Urban Dictionary[1] user Dreamy_Memes submitted an entry for the expression, defining it as "more than just regular thicc, like really really thicc" (shown below).

Spread
On July 11th, 2018, YouTuber NoLogicDavid uploaded a video titled "I AM DUMMY THICC!! – VRchat Full body tracking," featuring footage of avatars dancing in the game VRChat (shown below).
Ass Cheeks Copypasta
On January 12th, 2019, Twitter user @Snow_Radish[2] posted a mock tweet written from the perspective of the Metal Gear character Solid Snake, saying "I'm trying to sneak around but I'm dummy thicc" (shown below).
On January 16th, YouTuber blankit uploaded a dramatic reading of the tweet titled "Snake dummy thicc," which was originally posted by Twitter[6] user @hachikosyndrome and gained over 39,000 views within three weeks (shown below).
On January 29th, Twitter user @JinuSenpai[4] tweeted screencaps from the game Kingdom Hearts III with the caption "This hearthless dummy thicc" (shown below, left). On February 2nd, Redditor Aravic submitted a picture of a Bionicle with the title "I don't know if this has been said before, but Pohatu dummy thicc" to /r/bioniclememes,[3] where it received more than 700 points (100% upvoted) within four days (shown below, right).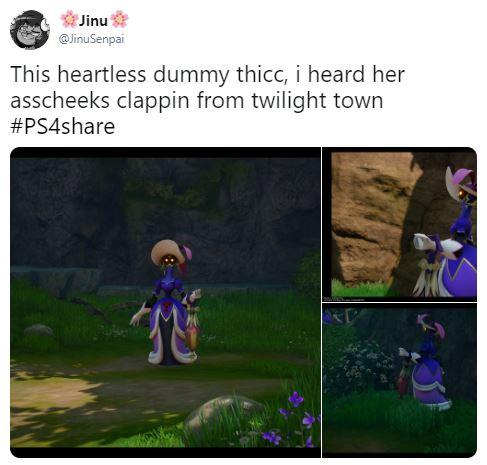 On February 5th, the yourfaveisdummythicc Tumblr[5] posted a Mr. X-themed variation of the copypasta:
"Mr. X from Resident Evil 2 is dummy thicc, and the clap of his ass cheeks keeps alerting the guards!"